Benefit from insider intelligence about wireless broadband. Sign up for FierceWiFi today!
FierceWiFi is a free weekly email service that will help you capitalize on opportunities in wireless broadband, including WiFi, WiMAX, VoWLAN, MuniWiFi, cellular-WiFi convergence, and other hot topics and technologies.
Readers rely on FierceWiFi for a time-saving email briefing delivered once per week. It's a quick, easy way to stay up to speed on this ever-changing sector, with insights and commentary you won't find elsewhere. Join our network of wireless Broadband insiders and sign up today - it's free!
How you benefit:
WiFi & Wireless Broadband Topics Covered
Fixed WiMAX (802.16d)
Mobile WiMAX (802.16e)
MuniWiFi
FierceWiFi Announcements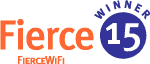 FierceWiFi's 2006 Fierce !5 winners
October 11, San Diego, CA.
IPTV Evolution @ Internet Telephony

San Francisco, CA - November 7-8, 2006
Current, relevant and well written. I like FierceWiFi for its ability to filter the most important information that I need to know about the WiFi industry.
- Stephen Hart- CEO, Norwood Systems (UK) Ltd
Fast and hot hitting news bites from the wireless broad band industry, that promote further industry inquiry.
- Manager, Sprint Nextel Corporation
FierceWiFi provides a single, reliable source for the most important developments in the wireless broadband space.
- Ross Brennan - CEO, Cicero Networks